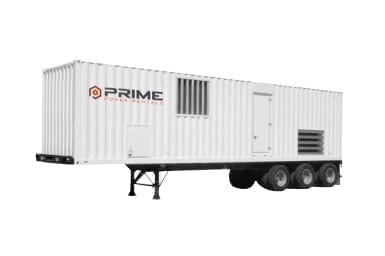 2000kW Generator Rental (2500kVA)
Prime Power Rentals 2000kW generator rental (2500kVA) provides reliable power to meet the most demanding requirements. They are designed and built to withstand tough environments at construction sites and provide dependable temporary power at entertainment venues, construction sites, and disaster recovery operations. And to safeguard the environment, the 2000kW generator features an integrated fuel tank with a fluid containment system. 
The 2000kW diesel generator rental (2500kVA) offers a prime rating of 1825kW (three-phase) and a standby rating of 2000kW (three-phase).  277/480V output voltage.  An electronic governor maintains frequency to ± 0.25% from no load to full load. It features an auto start-stop that allows the generator to start from a remote location. The unit features a powder-coated, weatherproof steel housing that allows a substantially low operating noise level of 75 dB. A comprehensive digital control panel provides instrumentation including an AC ammeter, AC voltmeter, frequency meter, AC circuit breaker, engine gauges, and much more.  Unit is available with utility-grade switchgear and can be capable of being paralleled with other like generators or the power grid to offer base load & peak shaving capabilities. 
Description
2000
kW
Generator Rental (
2500
kVA)
Features
Engine: 
EPA approved engine 

 

Heavy-duty air cleaner with service indicator

 

60-Amp charging alternator 

 

Fuel filters – primary and duplex secondary with integral water separator and change-over valve 

 

Lubricating oil system with spin-on, full-flow oil filters, and water cooled oil cooler

 

Oil drain lines routed to engine rail 

 

Jacket water heater 

 

Fuel cooler and priming pump 

 

24V electric starting motors with battery rack and cables

 
Generator:  
B

rushless, permanent magnet excited, three-phase with digital voltage regulator (

CDVR

), space heater, 6-lead design, Class H insulation operating at Class F temperature for exte

nded 

life, winding temperature detectors and anti-condensation space heaters (120/240V 1.2 kW)

 
Containerized Module: 
40′ ISO high cube container, CSC certified 

 

Module 3-axle, 40′ ISO container chassis 

 

Seven (7) sound attenuated air intake louvers and 4 lockable personnel doors with panic release 

 

Side bus bar access door, external access load connection bus bars 

 

Shore power connection via distribution block connections for jacket water heater, battery charger, space heaters, and generator condensate heaters 

 

Standard lighting 3 AC/4 DC, one (1) single duplex service receptacle, 2 external break-glass emergency stop push buttons 

 

1,250 gal fuel tank, UL listed, double wall, 9 

hr

 runtime @ prime rating 

 

Sound attenuated 75 dB(A) @ 50 ft 

 

Spill containment 110% of all engine fluids 

 

Four (4) oversized maintenance-free batteries, battery rack and 20-Amp battery charger 

 

Hospital grade, internally insulated, rectangular exhaust silencer with vertical discharge 

 

Vibration isolators, corrosion-resistant hardware and hinges

 

External drain access to standard fluids 

 

Fire extinguishers (Qty 2) 

 

Interior walls and ceilings insulated with 100 mm of acoustic paneling 

 

Floor of container insulated with acoustic glass and covered with galvanized steel

 
Generator Paralleling Control: 
Custom switchgear control with genset mounted controller and wall mounted paralleling controls 

 

Automatic start/stop with cooldown timer

 

Protections: 25, 27/59, 40, 32, 81 O/U 

 

Utility multi-function relay protections: 25,27/59, 32, 47, 50/51, 62, 67, 81 O/U 

 

UMR

 is IEEE1547-2003 compliant in most applications 

 

Touch screen controls with event log 

 

Multi-mode operation (island, multi-island and utility parallel), load sharing (multi-unit only) 

 

Import & export control (utility parallel only), manual and automatic paralleling capability 

 

Touch screen display (status and alarms) 

 

Metering display: voltage, current, frequency, power factor, kW, 

WHM

, 

kVAR

, and synchroscope

 
Control Panel: 
Generator mounted 

controller 

provides power metering, protective relaying and engine and generator control and monitoring. 

 

Provides MODBUS datalink to paralleling control for monitoring of engine parameters. 

 

Convenient service access for service tools (not included). 

 

Integration with the DVR provides enhanced system monitoring. 

 

Ability to view and reset diagnostics of all controls networked on J1939 datalink. 

 

Network modules via the control panel remove the need for a separate service tool for troubleshooting.

 

The real-time clock allows for date and time stamping of diagnostics and events.

 
Engine Operator Interface: 
Graphical display with a positive image,

transflective

 LCD, adjustable white backlight/ contrast. 

 

Two LED status indicators (1 red, 1 amber). 

 

Three engine control keys and status indicators (Run/Auto/Stop). 

 

Lamp test key. 

 

Alarm acknowledgment key.

 

Display navigation keys. 

 

Two shortcut keys: Engine Operating Parameters and Generator Operating Parameters. 

 

Fuel level monitoring and control.

 
Circuit Breaker: 
3000A fixed type, 3 poles, genset mounted, electrically operated, insulated case circuit breaker. 

 

Solid-state trip unit for overload (time overcurrent) and fault (instantaneous) overcurrent protection.

 

Includes DC shunt trip coil activated on any monitored engine or electrical fault, 100 KA-interrupting capacity at 480 VAC.

 
Voltage Regulator & Power Factor Control: 
Generator mounted automatic voltage regulator, microprocessor based. 

 

Manual raise/lower voltage adjust capability and VAR/power factor control circuitry for maintaining constant generator power factor while paralleled with the utility. 

 

Includes 

RFI

 suppression, exciter limiter and exciter diode monitoring. 

 

Voltage and power factor adjustments are performed on the setting screen of the HMI touch screen.

 
Fuel Tank: 
UL Listed 1250 gallon double walled. 

 

Fuel transfer system

 
Bus Bars: 
Three phase, plus full rated neutral, bus bars are tin-plated copper with NEMA standard hole pattern for connection of customer load cables and generator cables. 

 

Bus bars are sized for full load capacity of the generator set at 0.8 power factor. 

 

Includes ground bus, tin-plated copper, for connection to the generator frame ground and field ground cable.

 
AC Distribution: 
Provides 240 VAC for all module accessories. 

 

Includes controls to de-energize jacket water heaters and generator space heater when the engine is running.

 
Shore Power: 
One (1) shore power connection distribution block for jacket water heaters. 

 

One (1) for generator space, battery charger, and fuel pump.

 
Batteries & Battery Charger: 
2

4 VDC/20A battery charger with float/equalize modes and charging ammeter. 

 

Maintenance free batteries.

 
Modes of Operation: 
The

 utility paralleling controls are intended for automatic or manual paralleling with a utility power source as a load management system, with provisions for standby operation feeding an isolated load network. Load management operation involves microprocessor-based automatic loading controls with soft loading, base load, Import/Export control and soft unloading. For Standby operation, the generator operates as an isochronous machine isolated from the utility supply. The controls allow for automatic operation, initiated locally or remotely by the customer's SCADA system.