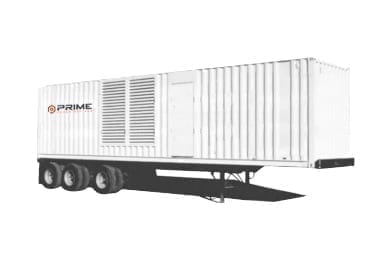 1500kW Generator Rental (1875kVA)
Prime Power Rentals 1500kW generator rental (1875kVA) provides reliable power to meet the most demanding requirements. They are designed and built to withstand tough environments at construction sites and provide dependable temporary power at entertainment venues, construction sites, and disaster recovery operations. And to safeguard the environment, the 1500kW generator features an integrated 24-hour fuel tank with a fluid containment system.  
The 1500kW / 1875kVA diesel generator offers a prime rating of 1360kW (three-phase) and a standby rating of 1500kW (three-phase).  277/480V output voltage.  An electronic governor maintains frequency to ± 0.25% from no load to full load. It features an auto start-stop that allows the generator to start from a remote location. The unit features a powder-coated, weatherproof steel housing that allows a substantially low operating noise level of 75 dB. A comprehensive digital control panel provides instrumentation including an AC ammeter, AC voltmeter, frequency meter, AC circuit breaker, engine gauges, and much more.  Unit is available with utility-grade switchgear and can be capable of being paralleled with other like generators or the power grid to offer base load & peak shaving capabilities. 
Description
1
500
kW 
/ 
1
875
kVA 
Generator Rental Features
Engine:  
Air cleaner, with service indicator 

 

Batteries 

 

Filters; fuel, RH with service indicators; lubricating oil 

 

Insulated muffler 

 

Jacket water heater 

 

Pump, fuel priming — RH 

 

Radiator Service meter 

 

Standard eight-gauge instrument panel 

 

Sump pump 

 

Governor

 
Generator: 
SR4B brushless, 480 volts, PM excited three-phase with a digital voltage regulator

, 

space heater

 
Containerized Module: 
Air intake louvers 

 

Module Bus bar access door 

 

Fuel tank — 4730 L (1250 Gal) UL listed 

 

Fuel/water separator 

 

110 VAC/24 VDC lighting 

 

Sound attenuated (75 dBA @ 50 ft) 

 

ISO hi cube container 

 

Lockable doors 

 

Stainless steel hardware and hinges 

 

Vertical radiator and exhaust discharge plenum

 
Switchgear: 
Floorstanding switchgear with 

controller 

components 

 

Meters: power factor, KW, PF, W/WHM

, 

synchroscope, KVAR

, 

Protection: 27, 40, 810, 81U

, 

CIM, CCM, remote annunciation

, 

Plug and peak shave utility conversion panel

 

Automatic start/stop with cooldown timer 

 

Battery charger, heavy duty 20A 

 

Protection: 32, 59 

 

Circuit breaker, electrically operated 

 

Connection terminals, 3-phase and neutral 

 

Automatic paralleling 

 

Auxiliary power connections for jacket water heater, battery charger, space heaters

 
Generator Set Control: 
Monitoring

:

 

 

Sequentially rotating, backlit LCD display of engine hours, engine rpm, DC battery voltage, oil pressure, and water temperature. Includes push button to hold the display on any single parameter.

 

Protection

:

 

 

Shutdowns

 – 

Overspeed, over crank, high water temperature, low oil pressure, and emergency stop. With an LED indicator for each condition.

 

AC Metering

:

 

 

Three-phase volts (L-L), amperes, and frequency with phase select pushbutton, on backlit LCD. Metering accuracy is 0.5%.

 

Control

:

 

 

Automatic starting with field adjustable cycle crank, failure to start (overcrank), and cooldown timer. 

 

Programming and Diagnostics

: 

Includes field-programmable set-points for engine control and monitoring variables and self-diagnosis of 

controller

 system component and wiring failures.

 
Alarm Module:   
Flashing LED warnings for: low coolant temperature, high coolant temperature (pre-alarm), low oil pressure (pre-alarm), engine control switch not in automatic, and low DC voltage. Includes alarm horn and acknowledge pushbutton.

 
Engine Control Switch: 
Snap action rotary switch, four-position — off/reset, automatic, manual, stop/cooldown. Off/reset for engine shutdown and resetting faults, automatic for remote starting by customer contact closure, manual for local starting and manual paralleling, stop/cooldown for manual operation cooldown.

 
Manual Paralleling: 
Controls consisting of reverse power relay, synchronizing lights, and switch. Reverse power condition causes tripping of the generator circuit breaker, immediate engine shutdown, flashing of indicating lamp, and sounding of alarm horn.

 
Circuit Breaker: 
Fixed mounted, three-pole, manually operated, molded case circuit breaker with solid-state trip unit for overload (time overcurrent) and fault (instantaneous) protection. Includes DC shunt trip coil activated on any generator set monitored fault. The circuit breaker is sized for a full load capacity of the generator set at 0.8 power factor.

 
Load Share Governor: 
Electronic load sharing governor with speed adjust potentiometer, idle/rated switch, and isochronous/droop switch. 

 
Voltage Regulator: 
Standard generator-mounted digital voltage regulator with voltage adjust rheostat mounted in the floor standing switchgear.

 
Bus Bars: 
Three-phase plus fully-rated neutral bus bars with NEMA standard hole pattern for connection of customer load cables and generator cables. Bus bars are sized for a full load capacity of the generator set at 0.8 power factor. Also includes a ground bus, connected to the generator frame ground and container frame with holes for connection of field ground cable. Bus bars are accessible from outside of the power module via a hinged, lockable cable access door.