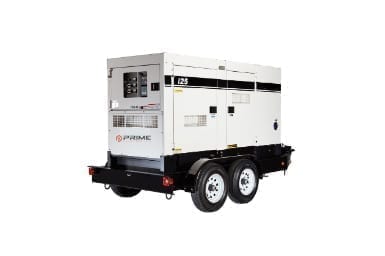 100kW Generator Rental (125kVA)
Designed to operate in the most extreme working conditions, this 100kw generator rental has a superior combination of design, high-quality materials, and dependable power that you can rely on for non-stop power with easy controls.
The generator set is powered by a radiator-cooled, industrial ISUZU Diesel engine, which meets current Environmental Protection Agency (EPA) TIER 4 FINAL non-road exhaust emission regulations, driving a single bearing, four-pole, three-phase alternator, with IP23 protection. The Prime Power kVA rating for generator set is given with a 105 degree C alternator winding temperature rise.
Description
100kW Generator Rental Standard Features
Heavy-duty, 4-cycle, direct injection, turbocharged, charge air cooled diesel engine provides maximum reliability. "
Brushless alternator reduces service and maintenance requirements and meets temperature rise standards for Class F insulation systems.
Open delta alternator design provides virtually unlimited excitation for maximum motor starting capability.
An automatic voltage regulator (AVR) provides precise regulation.
The electronic governor system maintains frequency to ±0.25%.
Full load acceptance of standby nameplate rating in one step (NFPA 110, para 5.6.3.1.2).
Sound attenuated, weather-resistant, steel housing provides operation at 66 dB(A) at 23 feet. A fully lockable enclosure allows safe unattended operation.
Internal fuel tank with direct reading fuel gauge.
E-coat and powder coat paint provides durability and weather protection.
Digital engine gauges including oil pressure, water temperature, battery volts, engine speed, and fuel level.
Analog generator instrumentation including AC ammeter, AC voltmeter, frequency meter, ammeter phase selector switch, voltmeter phase selector switch, and voltage regulator adjustment potentiometer.
ECU835 microprocessor-based digital generator controller.
Remote 2-wire start/stop control.
Operational temperature range of -40° to 85° C.
High visibility LCD display with heated screen and alphanumeric readout.
The automatic safety shutdown system monitors the water temperature, engine oil pressure, overspeed, and overcrank. Warning lights indicate abnormal conditions.
Fully covered power panel. Three-phase terminals and single phase receptacles allow fast and convenient hookups for most applications including temporary power boxes, tools, and lighting equipment. All are NEMA standard.
Fuel/water separator. Removes condensation from fuel for extended engine life.
Crankcase vent heater.
Simultaneous single and three-phase power.
EPA emissions certified – Tier 4 Final emissions compliant. • Engine fitted with DOC and SCR. " Spill Containment – Bunded design protects the environment by capturing up to 128% of engine fluids.