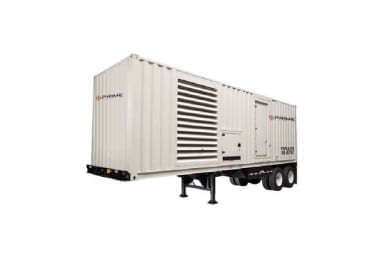 800kW Generator Rental (994kVA)
Prime Power Rentals 800kW generator rental (994kVA) provides reliable power to meet the most demanding requirements. They are designed and built to withstand tough environments at construction sites and provide dependable temporary power at entertainment venues, construction sites, and disaster recovery operations. And to safeguard the environment, the 800kW generator features an integrated 24-hour fuel tank with a fluid containment system. 
 The 800kW / 994kVA diesel generator offers a prime rating of 725kW (three-phase) and a standby rating of 795kW (three-phase).  Output voltages of Three-Phase (120/208V, 277/480V) are available.  An electronic governor maintains frequency to ± 0.25% from no load to full load. It features an auto start stop that allows the generator to start from a remote location. The unit features a powder-coated, weatherproof steel housing that allows a substantially low operating noise level of 70 dB(A). A comprehensive digital control panel provides instrumentation including an AC ammeter, AC voltmeter, frequency meter, AC circuit breaker, engine gauges, and much more.  Unit is available with utility-grade switchgear and can be capable of being paralleled with other like generators or the power grid to offer base load & peak shaving capabilities. 
Description
8
00
kW
Generator Rental (
994
kVA)
Features
EPA certified heavy duty diesel engine Heavy duty air cleaner with pre-cleaner and service indicator 

 

65-Amp charging alternator 

 

Fuel filters – Duplex primary with integral water separator and change-over valve, engine mounted secondary filter Fuel cooler and electric priming pump 

 

Lubricating oil system including pump, integral oil cooler, lube oil, filter, filtered crankcase breather system and oil drain line with internal valve routed to connection point accessible from exterior 

 

500 hour

 oil change intervals 

 

Jacket water heater (6kW) 

 

Three-phase, brushless, salient pole, 0.6667 pitch, permanent magnet excited, Class H insulation 

 

Anti-condensation heaters (120V, 600V) 

 

12-lead design, with voltage changeover link board 

 

Digital Voltage Regulator (DVR) with VAR/PF control

 

30′ ISO high cube container 

 

2-axle, 30′ ISO container chassis Sound attenuated air intake louvers and 3 lockable personnel doors with panic release 

 

Interior walls and ceilings insulated with 100 mm of acoustic paneling 

 

Floor of container insulated with acoustic glass and covered with galvanized steel 

 

Sound attenuated 74 dB(A) @ 7m 

 

Side bus bar access door, external access load connection bus bars 

 

Shore power connection via distribution block connections for jacket water heater, battery charger, and generator condensate heaters 

 

Lighting 3 DC, one single duplex service receptacle, 2 external emergency 

stop

 push buttons 

 

1,250 gal

 fuel tank, UL listed, double wall, 24 

hr

 runtime @ 75% prime +10% rating (

ULC

 + CGSB43-146) 

 

External lockable connections for fuel 

 

Spill containment 110% of all engine fluids 

 

Fuel transfer system and controls 

 

Two oversized maintenance-free batteries, battery rack and 20-Amp battery charger, and solar powered battery maintainer 

 

Hospital grade, internally insulated, disc shaped exhaust silencer with vertical discharge 

 

Vibration isolators, corrosion resistant hardware and hinges 

 

External drain access to standard fluids 

 

Two 4.5 kg (10lb) carbon dioxide fire extinguishers 

 

Standard cooling provides 43° C ambient capability at prime +10% rating 

 

Vertically mounted radiator, with vertical air discharge from the container 

 

Coolant drain line with internal valve 

 

Coolant sight gauge, level switch and shutdown 50/50 Ethylene Extended Life Glycol

 

Automatic start/stop with cool down timer 

 

Generator Protection features: 32, 46, 50/51, 27/59, 81 O/U, and phase sequence 

 

Utility multi-function relay (

UMR

) protection features: 25, 27/59, 32, 47, 40Z, 51, 51N, 60FL, 81O, 81U (Optional)

 

3000A electrically operated generator circuit breaker 

 

Multi-mode operation (island, multi-unit island and utility parallel (requires optional 

UMR

)) 

 

Manual and automatic paralleling capability, with load sharing (multi-unit only) 

 

Metering display: voltage, current, frequency, power factor, kW, 

WHM

, 

kVAR

, and synchroscope

 

30' ISO high cube container designed to meet CSC but not certified 

 

Sound attenuated air intake louvers 

 

Floor insulated with acoustic glass and covered by galvanized steel 

 

Three lockable personnel doors with panic release 

 

Two fire extinguishers 

 

External drain access to standard fluids

 

Hospital grade, internally insulated, disc shaped exhaust silencer with vertical discharge

 

UL Listed 

1250 gallon

 double walled tank provides 24 

hr

 runtime at 75% prime +10% rating (

ULC

 + TC (CGSB43-146)) 

 

AC Fuel transfer system connected to shore and generator power with automatic switchover

 

Two shore power connections for jacket water heaters and fuel transfer pump 

 

One for generator space heater and battery charger

 

24 VDC/20A battery charger with float/equalize modes and charging ammeter 

 

Two oversized maintenance free batteries 

 

Solar power battery maintainer

 

Two 

axle

 with Anti-lock brake system 

 

Air suspension chassis (optional)

 

Provides 120 VAC for all module accessories 

 

Includes controls to de-energize jacket water heaters and generator space heater when the engine is running

 

Optional Basler Utility Multi-function Relay (

UMR

) BE1-11i provides the following utility/intertie protection features: – Synch Check (Device 25) – Phase under voltage, 2 stage (Device 27) – Reverse Power (Device 32) – Negative sequence overvoltage (Device 47) – Phase time overcurrent (Device 51) – Neutral overcurrent (Device 51N) – Phase overvoltage, 2 stage (Device 59) – Under frequency, 2 stage (Device 81U) – Over frequency (Device 81O) – Loss of field (Device 402)

 

Provides for single unit stand-alone operation, island mode paralleling and load sharing with other power modules, and single unit-to-utility mode paralleling for base load control (with open transition between paralleling modes) 

 

Island mode paralleling features: – Lead unit select control allows single unit to connect to a dead bus or 

HWDBA

 Hard Wired Dead Bus Arbitration to allow first unit up to voltage and speed to be first unit to connect to a dead bus – Auto synchronization (voltage & phase matching) – Load sharing (kW) analog signal (like units & legacy compatible) – Load sharing (

kVAR

) analog signal (like units only) 

 

Utility mode paralleling features: – Auto synchronization (voltage & phase matching) – Base-load control (programmable set-point or potentiometer adjust) – Soft load/unload (programmable, shared set-point) – Power Factor control (programmable set-point)