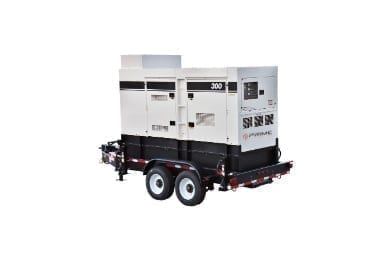 300kW Generator Rental (375kVA)
Prime Power Rentals 300kW generator rental (375kVA) provides reliable power to meet the most demanding requirements. They are designed and built to withstand tough environments at construction sites and provide dependable temporary power at entertainment venues and disaster recovery operations. And to safeguard the environment, the 300kW generator rental features an integrated 24-hour fuel tank with a fluid containment system.
The 300kW diesel generator rental offers a prime rating of 275kW (three phase) and a standby rating of 300kW (three phase).  Output voltages of Three Phase (120/208V, 277/480V) are available.  An electronic governor maintains frequency to ± 0.25% from no load to full load. It features an auto start stop that allows the generator to start from a remote location. The unit features an e-coat and powder-coated, weatherproof steel housing that allows a substantially low operating noise level of 65 dB(A). A comprehensive analog & digital control panel provides instrumentation including AC ammeter, AC voltmeter, frequency meter, AC circuit breaker, engine gauges and much more.
Description
300kW / 375kVA Generator Rental Standard Features
Heavy duty, 4-cycle, direct injection, heated crankcase vent, turbocharged diesel engine provides maximum reliability.

EPA emissions certified 

Microprocessor engine control system maintains frequency to ±0.25%.

Full load acceptance of standby nameplate rating in a single step.

Fuel/water separator removes condensation from fuel for extended engine life.

Sound attenuated, weather resistant, steel housing provides operation at 65 dB(A) at 23 feet. Fully lockable enclosure allows safe unattended operation.

E-coat and powder coat paint provides durability and weather protection.

Internal fuel tank with direct reading of fuel gauge.

Spill containment — Bunded design protects environment by capturing up to 124% of engine fluids.

Automatic voltage regulator (AVR) provides precise regulation. 

Fully covered power panel. 

Three-phase terminals and single-phase receptacles allow fast and convenient hookup for most applications including temporary power boxes, tools and lighting equipment. All are NEMA standard.

Remote 2-wire start/stop control.

Operational temperature range of -40° to 85° C.

Digital & analog engine gauges including oil pressure, water temperature, battery volts, engine speed and fuel level.

Digital & analog generator instrumentation including AC ammeter, AC voltmeter, frequency meter, ammeter phase selector switch, voltmeter & phase selector switch

Automatic safety shutdown system monitors the water temperature, engine oil pressure, overspeed and overcrank.

Warning lights indicate abnormal conditions.

Voltage selector switch allows easy to change voltages as your applications require.